 Your organization's technical foundation either supports, enables and empowers, or deters, inhibits and constricts. Often, it is all of the above. Regardless, your data and voice network, data center, connectivity and all related applications and solutions are vital and critical, while setting the stage for your business. This is where we shine.
But, we add three more elements that separate us from the pack…
Understanding the capabilities and finances of legacy technologies versus cloud-native technologies (that simply operate in a different paradigm) is our bread and butter. We help guide and advise organizations who are struggling with how to leverage their historical IT investments while moving to the future.
2.
Managed Services done right.
The options seem endless. Identifying, evaluating and comparing MSPs and MSSPs is a lengthy effort, clouded by too much sales shtick and a lack of industry standardization. We got you. Let us help your organization align and select the best partner for your business situation and team.
3.
Has it become ubiquitous?
Do you still need that big name, premium server, router or firewall? Is the newer tech simply engineered smarter for today's needs and requirements? Every technology solution, tool and application has a definite lifecycle. Our experts can help you understand.
Aligned is attuned to the latest in technology advancements, innovations and industry trends. Our assessments are focused on delivering significant value to enable and empower business success.
Technology Audit & Health Check
Disaster Recovery & Business Continuity Planning
Customer Experience Analysis
Data Center Migration Review
Data Center Consolidation Planning
Data Center Decommissioning Planning
Current & Future State Assessment
Collaboration Tools Review
Software Licenses Audit & Analysis
We pride ourselves on the care, attention, and expertise we bring to our service delivery.
Unified Communications & Collaboration
Voice & Data Network Audit, Procurement & Support
Software License Management
Tools Discovery, Procurement & Implementation
Backup & Disaster Recovery
Infrastructure Managed Services
Hybrid Cloud Strategy & Migrations
Technology Financial Modeling
"Our clients spend less time trying to identify the right service provider or technology to meet their needs because they have an entire team from Aligned supporting them every step of the way."
"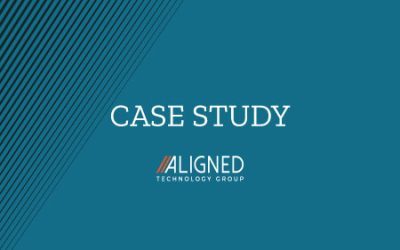 CASE STUDY Seamless Skies: Elevating OBHG's Cloud Journey with ATG's Elastic Engineering and HIPAA-Compliant AWS Migration HealthcareExecutive Summary OBHG Management Group, the nation's largest OB Hospitalist Provider, faced service disruptions due to a discontinued...